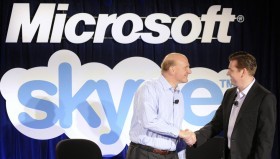 Last month, I announced the availability of Skype Beta 5.11 for Windows, which brought integration with your Microsoft Account and Facebook, allowing you to chat with people from all three networks. Today, Microsoft has released the final version of Skype 6.0, which brings you the same enhancements as the beta, along with multi-window chat. They've also released the Mac version simultaniously, bringing support for Retina display.
Remember, this is for pre-Windows 8. The Windows 8 version will be released this Friday.
I've been using the beta build since it was released and haven't found any issues with it. I don't have many Live Messenger contacts, but it's nice to have them all integrated together now.
Source: Skype
Download for Windows here.
Download for Mac here.