If you've been waiting for Windows 8.1 Preview, now is your chance to grab it! It'll be available to all users through the Microsoft Store later today, but you can download the DVD ISO images now.
Keep in mind, if you install this preview version, you'll be forced to reinstall the final version of Windows 8.1. This means that you'll have to reinstall all of your apps, including desktop ones.
WARNING:Please note: Some tablets and PCs running newer 32-bit Atom processors require updates to their graphics drivers before they can run the Windows 8.1 Preview. Those tablets and PCs include the Lenovo ThinkPad Tablet 2, ASUS VivoTab TF810C, HP Envy X2, HP ElitePad 900, Samsung ATIV Smart PC, and Fujitsu ARROWS Tab. We are working closely with Intel and OEM partners to deliver updated drivers that will allow you to install the Windows 8.1 Preview as soon as possible.
Download: Windows 8.1 Preview | TechNet
Start Button & Boot To Desktop
This has been a much awaited feature since the launch of Windows 8. While it won't be anything like the Start Button in previous versions, it'll bring you to the Modern-UI tiles screen, or you can also change a setting to bring you to a tile layout of your Apps.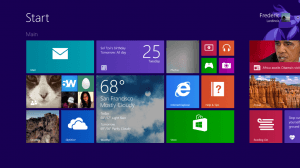 With your start screen, there are new tile sizes and they've also made it easier to move tiles around. You can also get an animated background on your Modern-UI screen too.
Improved Search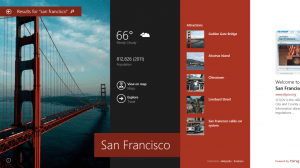 It's now a universal search tool that looks for results on the web (using Bing), your hard drive, SkyDrive, inside your documents and in apps that support this feature.
Better SkyDrive Integration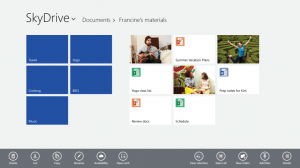 This new version deeply integrates SkyDrive, so you don't need a separate app for syncing your files with SkyDrive anymore. Many of your PC's settings are also now stored on SkyDrive, so when you log in to a new PC, all of your settings can be pulled over. Not every file is automatically synced to every device. Most files will only be available after you have opened them on a given machine. One feature Microsoft has also added to the SkyDrive app in the Windows 8.1 Preview is basic photo editing with filters and a smart color enhancement feature that lets you pump up the color of the sky or grass in an image.
Updated Settings Menu
In Windows 8, some settings were in the new Settings menu, while others were still in the Control Panel, which forced you to switch back to desktop mode. With Windows 8.1 Preview, nearly all of your settings are in the new Settings menu.
Redesigned Windows Store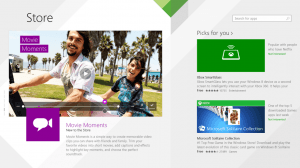 Microsoft has redesigned the Windows Store as well. Doing away with categories and focusing on app discovery. They've also introduced automatic app updates to those apps that you have installed. As you scroll through the apps, you'll see personalized recommendations (by Bing), new releases, and popular apps.
Other Updates
There's a new Xbox Music app with a focus on your music collection and a Pandora-like radio feature, and new apps for cooking and fitness. Internet Explorer 11, for example, isn't a major revamp of the browser, but you can now open an infinite number of tabs, and bookmarks sync between all of your Windows devices and can even include nested favorites. The Mail app now features automatic filtering for newsletters, shortcuts for finding emails from your favorites and the sweep feature that Outlook.com users are already used to.
Windows 8.1 Preview Video
For privacy reasons YouTube needs your permission to be loaded.
I Accept