There's been some leaks and rumors over the last few months about Windows Blue, now known as Windows 8.1, which will be a free update to Windows 8 that will be released sometime later this year through the Microsoft Store. So far, Microsoft has been a little quiet about the new features coming to this update, but today, on their Windows Blog, they posted some of the upcoming features.
Video Update June 5, 2013:
Today, Microsoft released the video below, showing off some of the features coming to Windows 8.1

For privacy reasons YouTube needs your permission to be loaded.
I Accept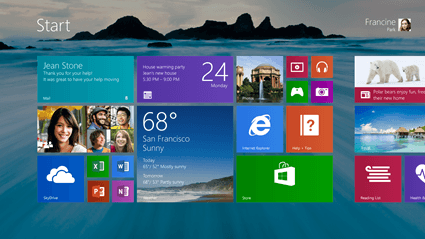 Windows 8.1 will offer more personalization, including more backgrounds and colors for the start screen. Some backgrounds even have motion. You can also copy your desktop wallpaper over to the start screen. As seen in the screenshot above, there's also a new larger tile and a new smaller tile size. You can now select multiple apps all at once, resize them, uninstall them, or rearrange them. We also found people were accidentally moving tiles on their Start screen so in Windows 8.1, you press and hold (or right click) to move things around.
Now, when you install new apps, they won't automatically go onto the start screen. Instead, you'll have to swipe up from the bottom of the screen and go to All Apps, then pin selected ones to the start screen. They'll still have the new flag on the tile. I'm not sure how much I like this feature. I actually preferred having everything on my start screen, then selecting the things I don't want on there, but that's just me.
In Windows 8.1, the Search charm will provide global search results powered by Bing in a rich, simple-to-read, aggregated view of many content sources (the web, apps, files, SkyDrive, actions you can take) to provide the best "answer" for your query.
They've also announced that they will be updating many of the built-in apps. The Photo app will have some basic editing features added to it. The Music app has been completely redone. Neowin is reporting of some new apps coming out, including Calculator, Alarm, Bing Food and Drink, Bing Health and Fitness, and Reading List.
They've also updated the snap view of running multiple apps at once, with varying sizes.
With Windows 8.1, the SkyDrive app has been updated to offer some functionality similar to the desktop SkyDrive app. It will sync your files and make the available for offline viewing.
They've also updated the PC Settings, now giving you access to more settings so that you won't have to go into the Control Panel in desktop mode anymore.
They have improved the mouse and keyboard, making it more accurate and have added back a Windows logo in the desktop taskbar for a new Start shortcut.
We will also be getting IE11, which is optimized for touchscreens.