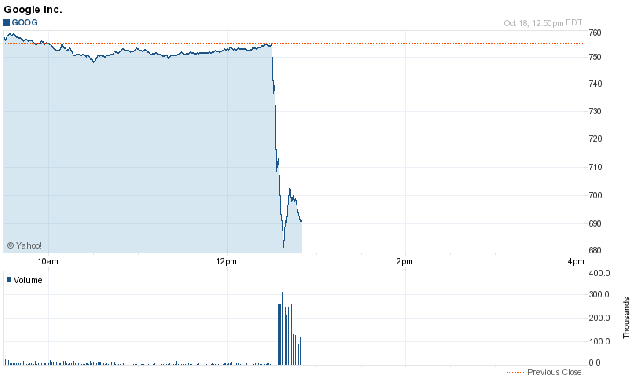 Google apparently accidentally released their Q3 financial statements a little early, in the middle of the day instead of after the stocks are closed. Google's stock is now down about 8% and currently trades for well under $700 and trading in the stock has now been halted. Google reported $14.10 billion in revenue and an EPS of $6.53.
According to Engadget:
Early indications are that the search giant has notched third quarter revenues of $14.10 billion, representing a 45 percent uptick compared to Q3 2011. GAAP operating income in the third quarter of 2012 was $2.74 billion, or 19 percent of revenues, and that would explain the near 10 percent slide in the company's stock price. You see, a year ago Google nailed down $3.06 billion, or 31 percent of revenues, when looking at operating profit; investors were expecting some $10.65 per share, while they got just $9.03 per share.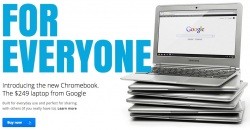 In positive news, Google also announced a new thin Samsung Chromebook, priced at $249. It will feature a 11.6-inch screen, weigh 2.5 pounds, be 0.8 inches thick, and run for more than 6.5 hours on battery. For more information, see the Google device page here.