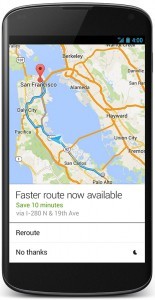 Google is pushing out some major updates for its Google Maps app, included a dedicated version for Android tablets and the iPad. Google will gradually be rolling it out to Android devices through the Google Play Store, and it should be available for the iPhone in the Apple App Store soon.
Google released Google Maps for the iPhone back in December after the iOS6 Apple Maps fiasco. Today's new version of Google Maps is based on that iOS version.
The new Explore feature allows you to visually browse and discover new places. Navigation also got better: users can now see "reports of problems on the road that you can tap to see incident details" and the new app will alert if a better route becomes available, while automatically rerouting to get to the destination faster. This feature is currently only available in the Android version and will be coming soon to iOS.
Source: Google Blog
Google Latitude
Google Latitude offered a way to share your location with your friends through Google Maps. Starting on August 9th, this feature will be going away for good. Instead, Google recommends that you use the Check-In feature in the Google+ app, so that you can share your check-ins with your Google+ circles.
As of right now, you can't do check-ins from the Google+ iOS app, but Google has said that this feature will be coming soon.
Source: Google
Offline Maps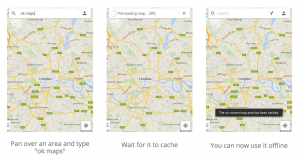 Storing your maps for offline use is hidden in the new Google Maps. In order to save (or cache) a section of the map for offline use, pan over to that area of the map, then in the search bar, type "ok maps", wait for it to cache/download, then you're good to go.