If you have an active Apple Developer account, you might already be running Beta 1 of iOS 7 on your iPhone. Today, Apple released Beta 2, and also made it available for the iPad and iPad Mini. There's not much details available on what all is included in the update besides bug fixes, Slashgear listed the following updates:
• Siri Voices – Male & Female
• Clock Icon change inside Control Center
• Shared Photo Stream notification now appears to remind you to add media
• Added button in Weather for additional cities or all-city access
• Voice Memos are back (they'd been MIA in Beta 1)
• Reminders App re-appearance (with shiny new colors!)
If you're already on Beta 1, you can go to Settings > General > Software Update and download it OTA. Otherwise you can head over to the Developer Center and download it through Apple's website. The download (even OTA) comes in at 237MB.
For the future betas, this graph was put together, and so far it seems pretty accurate. You can judge when the next beta will be out based on Apple's history: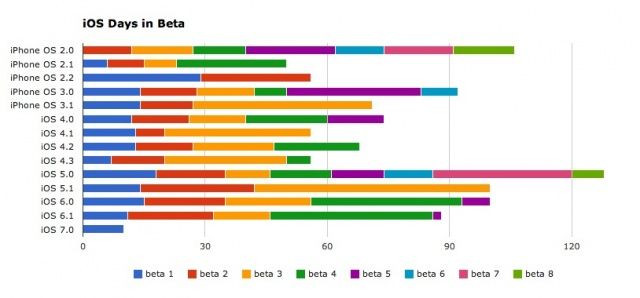 •Beta 1 – lasts 14.75 days
•Beta 2 – lasts 15.4 days
•Beta 3 – lasts 15 days
•Beta 4 – lasts 18.6 days
•Beta 5 – lasts 17.8 days
•Beta 6 – lasts 11 days
•Beta 2 – Monday, June 24th
•Beta 3 – Wednesday, July 10th
•Beta 4 – Thursday, July 25th
•Beta 5 – Monday, August 12th
•Beta 6 – Friday, August 30th
•Gold Master – Tuesday, September 10th
•iOS 7 Final – Friday, September 20th